Desert (
Spleef
) is a
SpleefLeague
arena in the theme of a desert village. Located in the desert section of SpleefLeague. It is considered to be one of the best arenas to play on because of the distance from spawn and it's low lag rate. Players would consider playing desert during the
SWC
and on typical days. It's very hot but surely the snow won't melt! Desert is one of the few maps that has incorporated a
SuperJump
map within the time of
SpleefLeague 2.0
History & Appearance
Edit
Desert has been around since the beginning of SpleefLeague. While it didn't have much design as it does now, that was one of the many reasons why it was considered to be popular. Desert takes the look of a desert village, surrounded by sand and the beating sun. Making it one of the most ironic maps in all of SpleefLeague, you can still dig out the snow without the fear of it melting.
Directions
Edit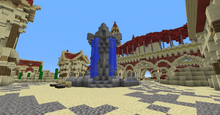 Starting from Spawn (looking at Arena) you are going to take a left. When approaching the SuperJump Training Arena, you will take a right and continue walking towards the Desert Tunnel. Continue walking on the stone and gravel path and you will lead to a village look alike. Pass the fountain and you will see the spleef arena.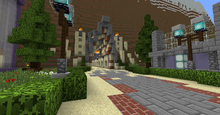 Spleef World Cup
Edit
Desert has been widely used during the SWC. Due it it's low lag rate, players have the ease of 5-0ing players. This is a common location for spleefers to play during qualifications as well as during elimination rounds (except for Finals). Spectators can stand alongside the walls of the arena and get a good look at the matches.
Somewhere within Desert, Sinsie's parkour trials were located there, but since the SWC Update, it is most likely gone.
Ad blocker interference detected!
Wikia is a free-to-use site that makes money from advertising. We have a modified experience for viewers using ad blockers

Wikia is not accessible if you've made further modifications. Remove the custom ad blocker rule(s) and the page will load as expected.