Halloween (Spleef) is a SpleefLeague arena in the theme of the holiday Halloween. It is a limited time map which players can acquire during the Halloween season.
History & Appearance
Edit
Halloween was one of the first holiday maps to be added to SpleefLeague. It was, however, the first holiday map to be revamped in SpleefLeague 2.0. It used to take the appearance of a dark wool room with jack o' lantern heads evenly split around the arena. Now it is it's very own island in the looks of a haunted mansion and garden.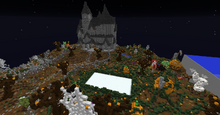 Directions
Edit
As of now, there is no way to get to Halloween. During the Halloween season, players must have found 20 candy apples in order to get access to Halloween.
Spleef World Cup
Edit
For being a very low lag rate and popular to many spleefers, it never suited the SWC due to spectating. It was commonly used during qualifying rounds but never the tournament rounds. As of now it is unknown whether it will be popular during SWC.
Ad blocker interference detected!
Wikia is a free-to-use site that makes money from advertising. We have a modified experience for viewers using ad blockers

Wikia is not accessible if you've made further modifications. Remove the custom ad blocker rule(s) and the page will load as expected.