Inferno (SuperJump) is a SpleefLeague course in the theme of an underground railway. It is one of the maps that is not affiliated with a spleef map.
History & Appearance
Edit
Inferno was first introduced after the Beta release of SpleefLeague 2.0. It has the appearance of an underground railroad that is above lava.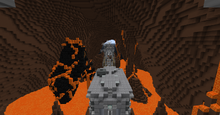 Directions
Edit
Starting from Spawn (looking at Arena) you are going to take a left. When approaching the SuperJump Training Arena, you will take a left and continue walking into the tunnel. After you exit the tunnel you will be in Molten, continue towards the other side of Molten and you will see a small building that has a drop. Jump down it and you will see Inferno.
There are currently no records to be submitted.
Ad blocker interference detected!
Wikia is a free-to-use site that makes money from advertising. We have a modified experience for viewers using ad blockers

Wikia is not accessible if you've made further modifications. Remove the custom ad blocker rule(s) and the page will load as expected.