Lost City (SuperJump) is a SpleefLeague course in the theme of a run down/ destroyed city. It is very enjoyable because of the running on roof tops.
History & Appearance
Edit
Lost City is an original SpleefLeague course. Just like the others, it has been revamped to look nicer and more detailed. Located in the desert biome, it has the look of it being trapped in a sandstorm. Before players would never be allowed to walk along the ground of Lost City, but now it is a free roaming map.
Directions
Edit
Starting from Spawn (looking at Arena) you are going to take a left. When approaching the SuperJump Training Arena, you will take a right and continue walking towards the Desert Tunnel. Continue walking on the stone and gravel path and you will lead to a village look alike, which is Desert. Looking at Desert's spleef arena, you are going to take a right and travel through the desert until you see high towers and buildings. Continue walking towards it and you will be at Lost City.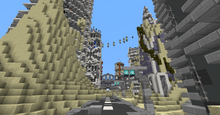 There are currently no records to be submitted.
There are a lot of easter eggs within Lost City.
You could always get a view of spleefers while on the rooftops.
Ad blocker interference detected!
Wikia is a free-to-use site that makes money from advertising. We have a modified experience for viewers using ad blockers

Wikia is not accessible if you've made further modifications. Remove the custom ad blocker rule(s) and the page will load as expected.