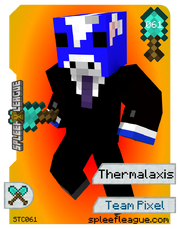 About Thermalaxis
(also known as Therm,Therma, Thermal, malaxis, molasses, or JavaCow) Thermalaxis was a Sr. Moderator at Spleefleague.com, after resigning, he states as a VIP. He is the head of the mafia there and is the official interrogater for other staff members and players. He is the captain of the spleef team, "Pixel(ated Mafia)." He also has a youtube channel that is gradually growing. You can also follow him on Facebook and Twitter and Twitch. He has many ways of contacting him and he is a very Blue Cow. He is also learning Java for soon to become a plugin developer for minecraft servers.
Appearance
Edit
Thermalaxis is a blue cow in a suit. He wears a very purple tie to represent the colour of his favourite soccer team in italy, Fiorentina. He always is wearing a red headset and he is sometimes high and "trippin' on acid" which is why at times you will see him puking a rainbow and not wearing shoes. He loves the colours blue and purple. Most of the time you can find him wearing purple boots.
Ad blocker interference detected!
Wikia is a free-to-use site that makes money from advertising. We have a modified experience for viewers using ad blockers

Wikia is not accessible if you've made further modifications. Remove the custom ad blocker rule(s) and the page will load as expected.